Special Offers
Summer Discounts
Summer Facial Treatment – 60 minute Detox Facial – $69
Waxing Wednesdays – SAVE 15% on Body Waxing
Check-in on Yelp & Facebook
Dermaplaning – 1st Time Service Offer for $59
Like us on Facebook & receive a FREE Brow Design!
VIP Referral Program – Refer a New Guest for $20 Spa Gift Card
Complimentary Scalp Massage – Schedule in advance.
Instant Spa Gift Certificates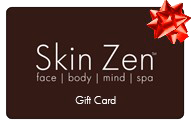 Give the Gift of Wellness
Special Events*
Ladies' Nights
Nutrition and Detox
Peel Events
Holiday Spa-Tacular!
*Space is limited, please schedule in advance.

For Text Offers, text "SKINZEN"
to 77948 to join!